Erin Bagwell on Feminism & Entrepreneurship in Filmmaking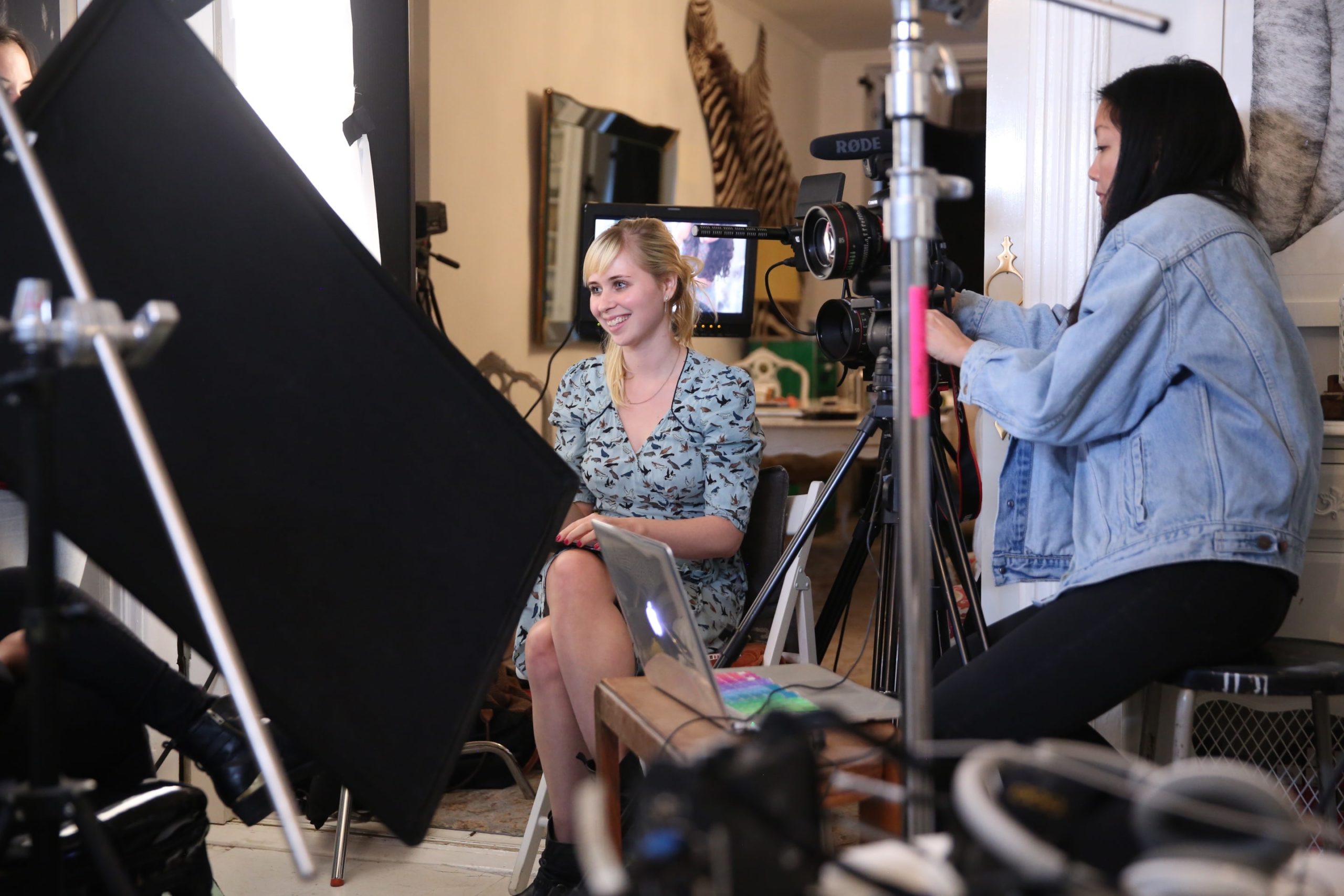 Erin Bagwell is a filmmaker and blogger focusing on feminism. She lives in Brooklyn, New York. In 2014, after being sexually harassed and underestimated at her 9 to 5, Erin consequently quit her job and started working freelance.

Inspired by the amazing female entrepreneurs she knew in Brooklyn – who were raising money, managing teams, and working by their own rules – she put together a Kickstarter campaign. The aim of the campaign was to fund a documentary to share stories about entrepreneurship and feminism. In just 30 days her campaign raised over $104K in funding. With this she was able to produce her first feature length film: Dream, Girl. Now it is available for free on YouTube at dreamgirlfilm.com/watch
Dream, Girl is a feminist documentary showcasing stories of inspiring & ambitious female entrepreneurs. It was screened at the White House as part of the United State of Women Summit. Later, the screening at the iconic Paris Theatre in New York City was sold out.
a documentary showcasing the stories of inspiring & ambitious female entrepreneurs.
Through the film Erin was chosen for Oprah's SuperSoul100list, a collection of 100 leaders who are making a social impact in their work, hand-selected by Oprah. She also featured on Apple's 'Behind the Mac' campaign which showed people with passion who are changing the world for the better.
We asked Erin to share her entrepreneural lessons and her view on feminism with our community.
Erin, after launching your first entrepreneurial project, you started to work very soon on several other business ideas. Was it difficult to juggle many businesses at once? Do you have any tips on how to stay focused while having multiple commitments?
When I was working full-time on the production for Dream, Girl it was my sole focus. I stopped working on everything else. Especially since I had such a small team, every day counted to make sure the film was the best it could be. In fact during the post-production process I wiped my calendar clear and hid in my one-bedroom apartment to finish the film. It took everything I had to get it over the finish line.

Now that Dream, Girl's production and distribution is finished I'm free to explore other creative avenues. I work on a weekly podcast where Diana Matthews and I give Hollywood unsolicited advice about feminism called
BeaverTalk.
I'm also filming a mini doc about motherhood, and really enjoy writing for my blog whenever inspiration strikes. I just had a baby at the start of the New Year, so this year I'm giving myself space to cultivate the next big thing.
Your Kickstarter campaign to finance feminist documentary "Dream, Girl" was very successful. Many women use crowdfunding these days as an alternative way of investment. Do you have any tips for them on how to create and run a successful crowdfunding campaign?
Yes! I have a whole article you can dive into here called "How to Crush Your Kickstarter Campaign". There you can find my tips and tricks for running a successful crowdfunding campaign.
But I will say my biggest takeaway is that you need to be in the room where it happens. People need to look you in the eye and fall in love with your passion for the project. Often times we think crowdfunding is all online networking, however, people still connect in the most powerful ways in person or at least on the phone. So get out of those pajamas, and hit the road!
Get out of those pajamas, and hit the road!
You are vocal about feminism. You also host podcast "Beaver Talk" with Diana Matthews in which you give feminist advice to Hollywood. What are your tips on how to to tell stories about women from a feminist point of view? And how to communicate political topics?
As a white woman of privilege I'm always trying to think about my subconscious bias when it comes to storytelling. For Dream, Girl I hired a diverse all-female crew to share the stories of a diverse all-female cast. If you don't have the people in the room whose story you are telling it won't be authentic. I also think it's important to keep doing the work to educate yourself regarding feminism. And you can put yourself in spaces where you are the minority, follow inclusive activists who are doing the work on social media or in real life. Be kind to yourself in the process. As feminists we tend to be hard on our own, and there has to be space to learn and grow to keep getting better.
What are three tips you would give to any women who wants to become an entrepreneur?
Start small. Everyday do one thing to move in the direction of your dreams. Nothing happens overnight and it takes time and energy to build momentum.
Find your tribe. If you want to be a writer, hang out with other writers. If you want to start a shoe company, find shoemakers in your area. When the going gets tough you will need a support system to help guide and motivate you.
Set aside time to think about money & pay yourself. Female entrepreneurs are notorious for sacrificing their financial well-being for the good of the company – I know I've been there! Set aside time to do your projections, accounting, and figure out your financial plans and dreams. Get in the habit of recognizing this isn't just a passion project but a business that needs money to thrive. As artists this can be a tricky thing to navigate. I've written an e-book about my sales experience called Creative Money to help you sell like an artist.
Set aside time to think about money & pay yourself.
To read more about Erin's journey – feminist blogger and filmmaker – and hear about all the highs and lows of the filmmaking process check out her written series
A Gal's Guide to Making a Movie here.