We understand the challenges and frustrations coaches face when creating consistent and engaging content on IG. That's why this exclusive Coach IG Power Bundle is designed to empower you with confidence and ease as you effortlessly show up on Instagram.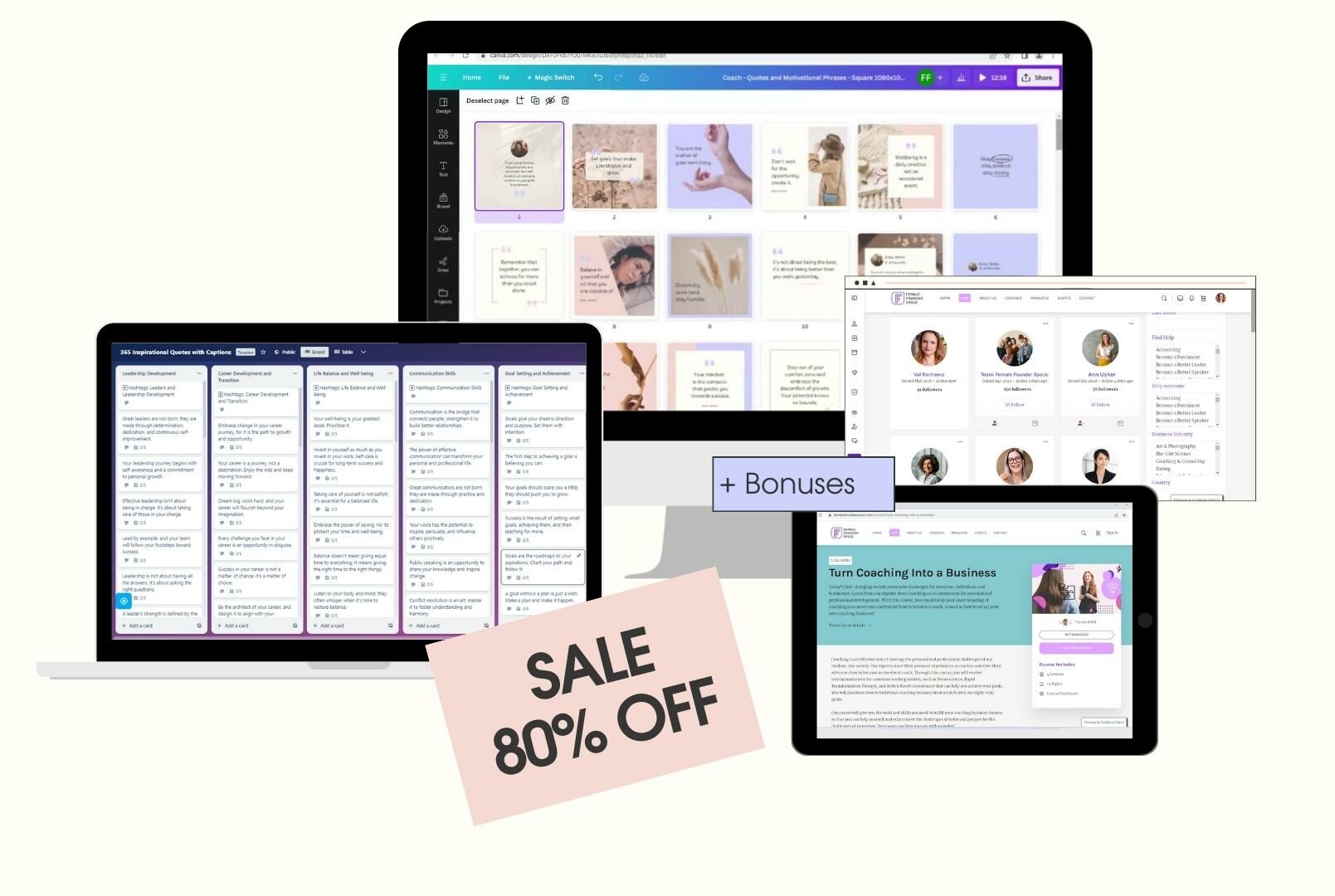 546 Done-For-You Canva Coaching Templates to Boost Engagement on IG
365 Inspirational Quotes with Captions to Use Throughout the Year
PLUS BONUSES
Fuel your confidence as a coach and empower your clients with precision and impact.
✅ Post consistently to your feed with ease
✅ Share content that generates enthusiastic fans and devoted customers.
✅ Reduce your daily Instagram marketing efforts to 20-30 minutes
*Exclusive time-limited offer.Enjoy lifetime access with a 7-day money-back guarantee.
Effortlessly enhance your content and captivate your audience.
Seamlessly connect with your clients on a deeper level, fostering trust and loyalty.
Maximize efficiency and make an impact without sacrificing the moments that matter most to you.
As an empowering and confident coach, you deserve to spend your time bringing
fulfillment and transformation to your clients
rather than agonizing over a single social media post.
The world of Instagram can sometimes feel like an uphill battle 😶‍🌫️ as you strive to translate your thoughts into engaging text that captures the hearts and minds of your audience. Your dedication to frequent updates is commendable, but every time you open the app, that blinking cursor stares back at you mockingly. 😩 
It feels as though time stands still as minutes turn into half an hour, and frustration grows with each passing moment of grappling with a blank screen. ⏳
Translating your thoughts into engaging text can be an uphill battle, leaving you longing for that surge of creativity to come flooding in. And when you finally manage to publish your post and start scrolling through your feed, there it is – the lingering question: 💥 Why do other posts appear so much more polished and captivating than yours?💔
💪🏾 with 546 Done-For-You Canva Coaching Templates AND
365 Inspirational Quotes WITH CAPTIONS
❌ That lingering feeling suggesting everyone else's content is "better" than yours and embrace your unique perspective.
❌Wasting hours spent agonizing over content creation, freeing yourself from overwhelming stress.
❌Overthinking every word, for it's time to reduce the hours spent perfecting each caption and regain confidence in your work without constant worry.
❌ Going through the hassle of hiring both a graphic designer and a content manager anymore.
✅ Embrace the joy of consistently having captivating content that you genuinely love sharing.
✅ No longer will you struggle with finding the right words or second-guessing your captions – instead, allow yourself to cultivate unshakeable confidence in every post.
✅ Effortlessly create compelling content on the fly by simply opening a template, enabling you to seize opportunities whenever they arise.
✅ And as if that wasn't enough, experience the thrill of delighted buying customers flocking towards your brand.
The power lies in your hands ✨ – take control of your time and be unstoppable in crafting captivating, engaging Instagram posts that will leave followers truly inspired.
*Exclusive time-limited offer.Enjoy lifetime access with a 7-day money-back guarantee.
These are the kind of messages we are getting…
Introducing Coach IG Power Bundle 
Get ready to elevate your coaching business with confidence and style. Instant access to
546 Done-For-You Canva Coaching Templates
to boost engagement on IG and
365 Inspirational Quotes with Captions
to use throughout the year PLUS BONUSES
✅ Designed by coaches for coaches, this remarkable package includes 546 stunning coaching templates for every occasion that are guaranteed to impress.
✅With these professionally designed templates at your disposal, you can save valuable time and money when preparing engaging social media posts.
✅No need to hire a graphic designer – our stunning designs will effortlessly attract more clients to your profile.
✅And that's not all! We've also included 365 inspirational quotes with captions specifically curated to help you connect with your clients on a deeper level.
✅Plus bonuses: free access to our online female entrepreneurs community and a free course on how to turn your passion for coaching into a business.
ALL OF THIS FOR
€912
ONLY €175
80% off €35
*Exclusive time-limited offer.Enjoy lifetime access with a 7-day money-back guarantee.
Effortlessly elevate your brand aesthetics with Canva
Tailor colors and fonts seamlessly to align with your unique identity. Effortlessly replace fonts, colors, images, and other graphical elements, ensuring a seamless integration that perfectly embodies your branding vision. Unlock the power of customization and make your brand stand out effortlessly.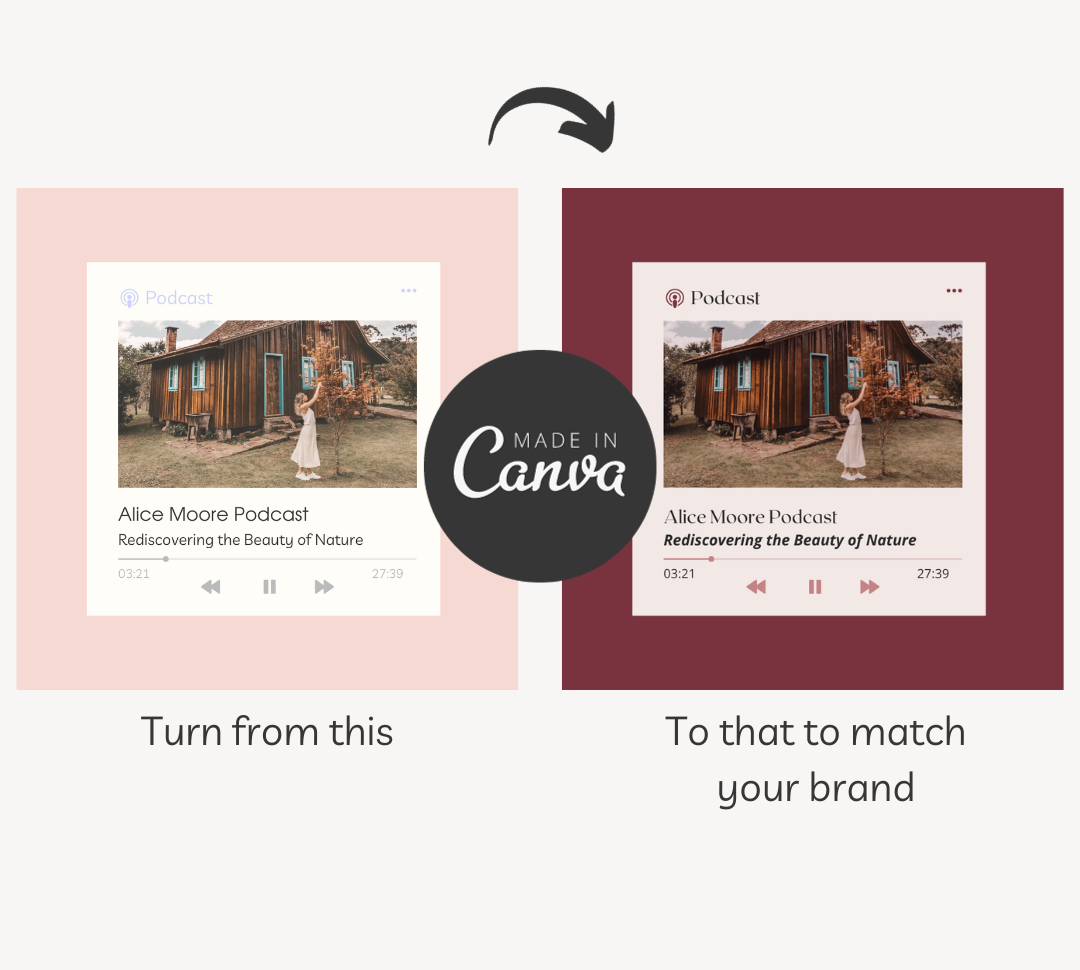 Streamline your posting process with perfectly organized quotes on Trello
Effortlessly find the right quote to share today and keep track of those you've already used. Elevate your content management with our user-friendly solution, ensuring a seamless and efficient experience for all your social media needs.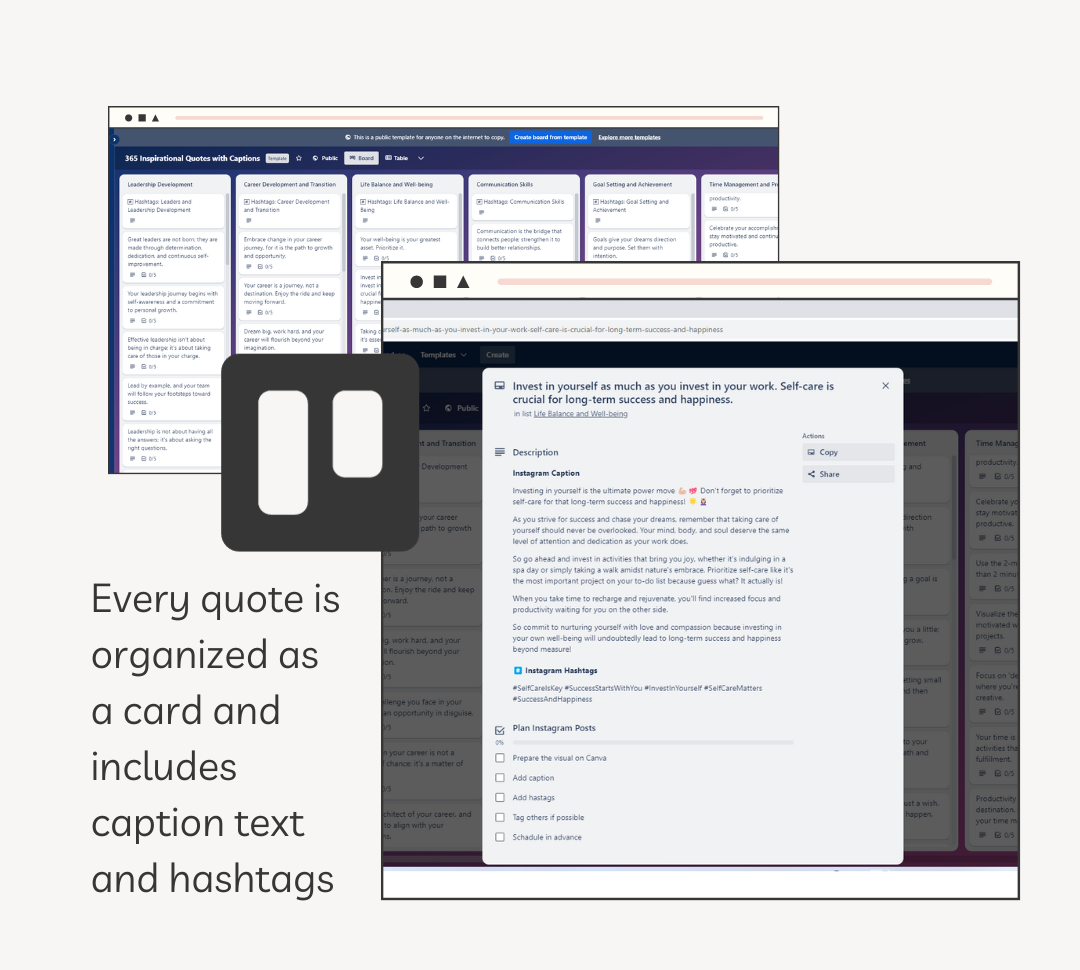 What is included in the bundle? 
546 Done-For-You Canva Coaching Templates
to Boost Engagement on IG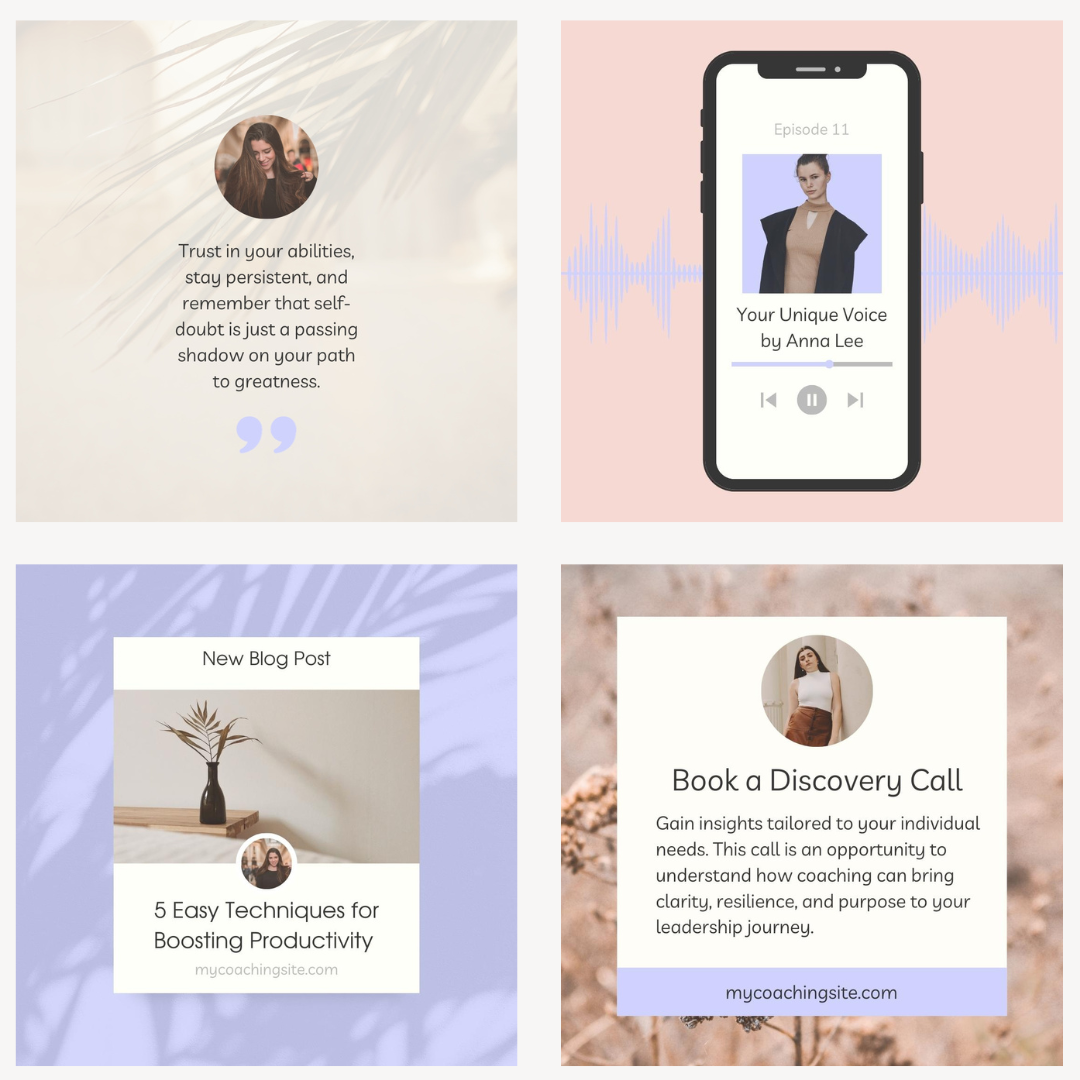 Elevate your coaching presence with our versatile IG Templates! Perfect
for every occasion
✨63 Quotes and Motivational Phrases
✨ 63 Checklists and Reminders
✨ 63 Podcasts and Blog Posts 
✨ 63 Events and Q&A 
✨ 63 Marketing and Interactive
✨ 63 Call to Action and Customer Feedback
✨ 63 Educational
✨ 63 Tips Carousel Style
✨ 21 Reels Templates
✨ 21 Highlight Covers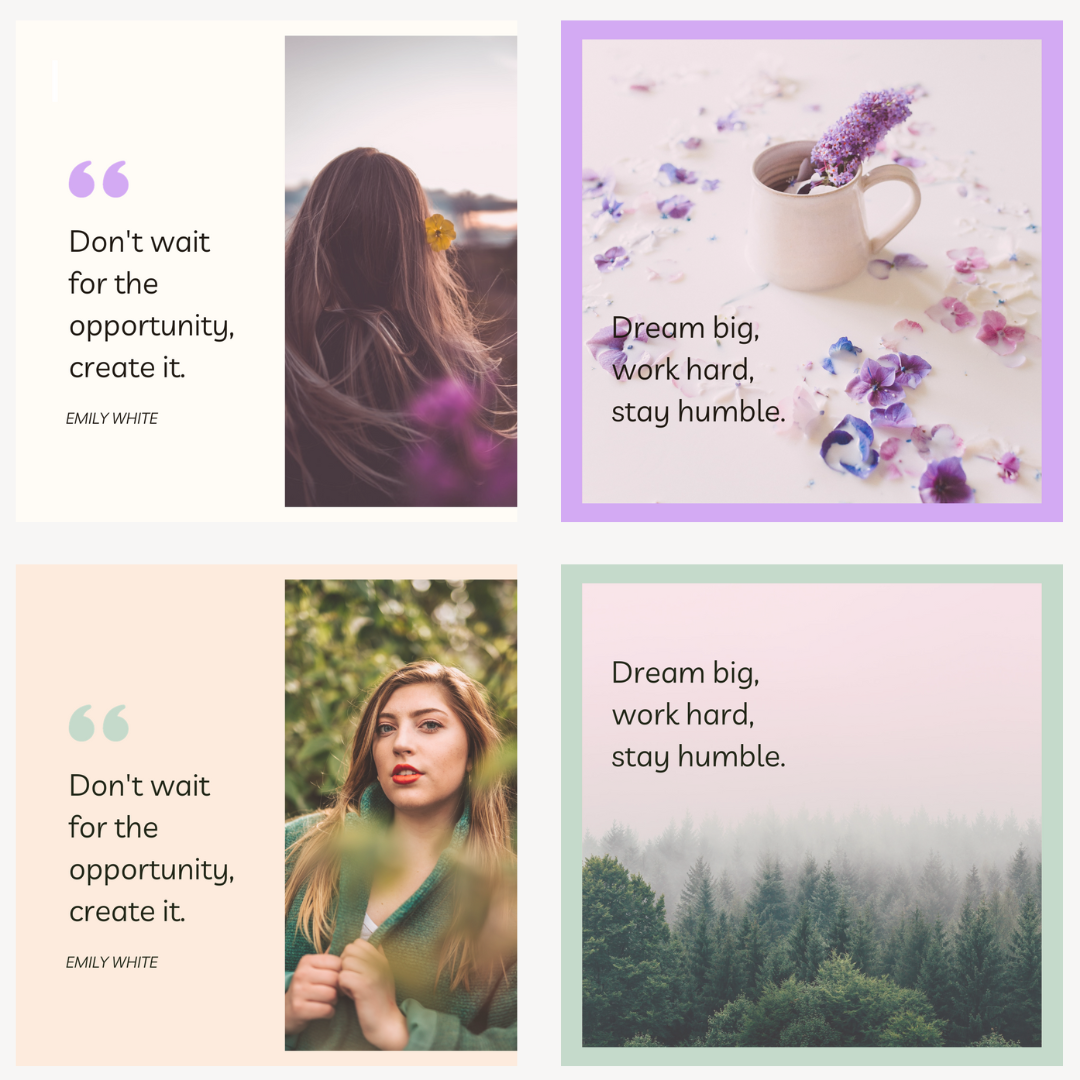 With three stunning color palettes, including captivating blue, refreshing green, and mesmerizing purple combined with earthy beige tones, our templates will make your Instagram feed pop with confidence
✨ Unlock Vibrant Possibilities: 3 Stunning Color Palettes! (Includes Blue, Green, and Purple)
✨ Customize Your Style: Choose from our curated color palettes or effortlessly apply your individual hues to the templates.
✨ Seamless Brand Integration: Easily align the templates with your brand's unique color scheme for a cohesive and captivating visual identity.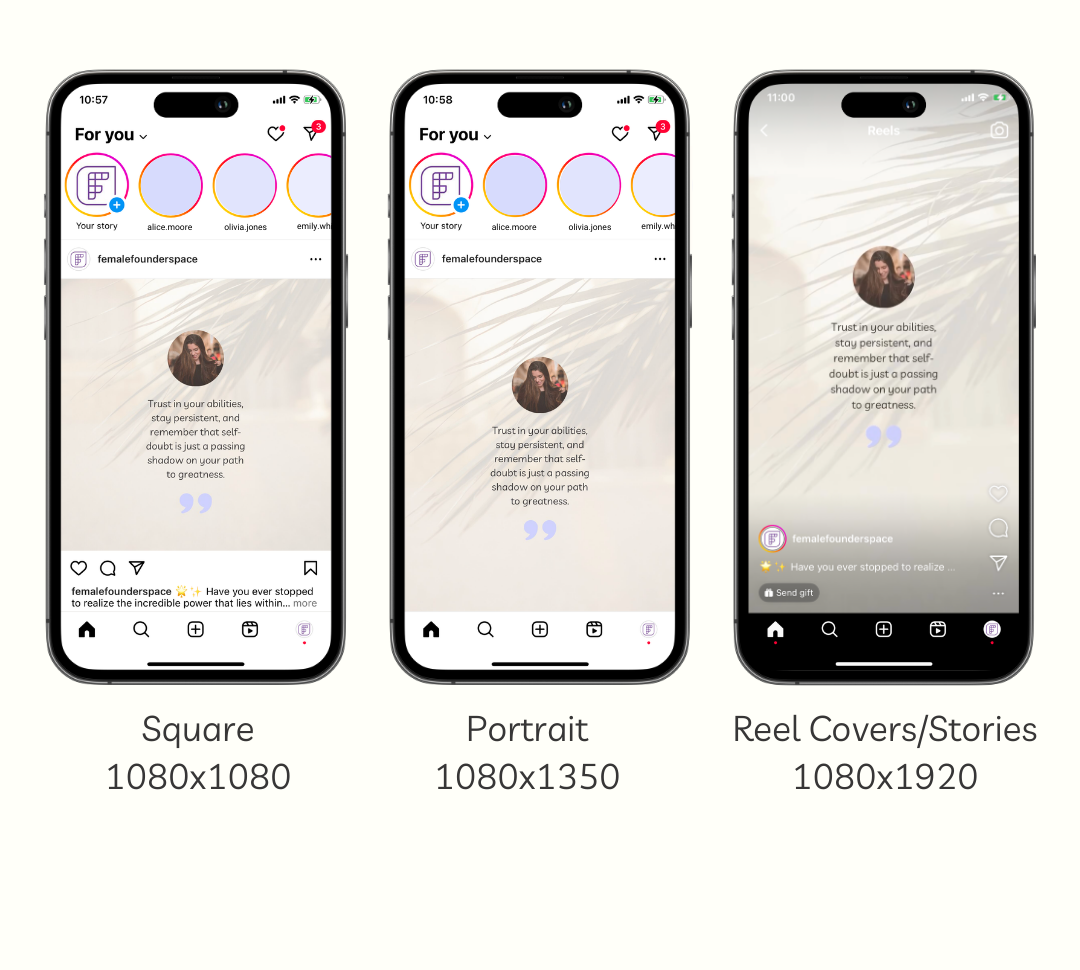 Save time and eliminate the hassle of adjusting images. Our collection offers 3 different formats, ensuring your content always looks stunning on any device
✨ Versatile Formats: 3 Distinct Options to effortlessly showcase your Instagram content.
✨ Perfect Fit, Every Time: Choose from Square (1080×1080), Portrait (1080×1350), and Reel Covers/Stories (1080×1920) to save time and ensure flawless presentation.
✨ Seamless Integration: Say Goodbye to cut-off text or pictures – your posts will always look picture-perfect on ccreen!
365 Inspirational quotes with caption
to connect deeply with clients
Dive into 12 dynamic themes each overflowing with 29-30 expertly curated quotes to ignite inspiration, fuel motivation, and propel success
✨ Leadership Development
✨ Career Development and Transition
✨ Life Balance and Well-being
✨Communication Skills
✨ Goal Setting and Achievement
✨ Time Management and Productivity
✨ Stress Management
✨ Financial and Money Management
✨ Relationships and Interpersonal Skills
✨ Health and Fitness
✨ Confidence and Self-Esteem
✨ Entrepreneurship and Business Growth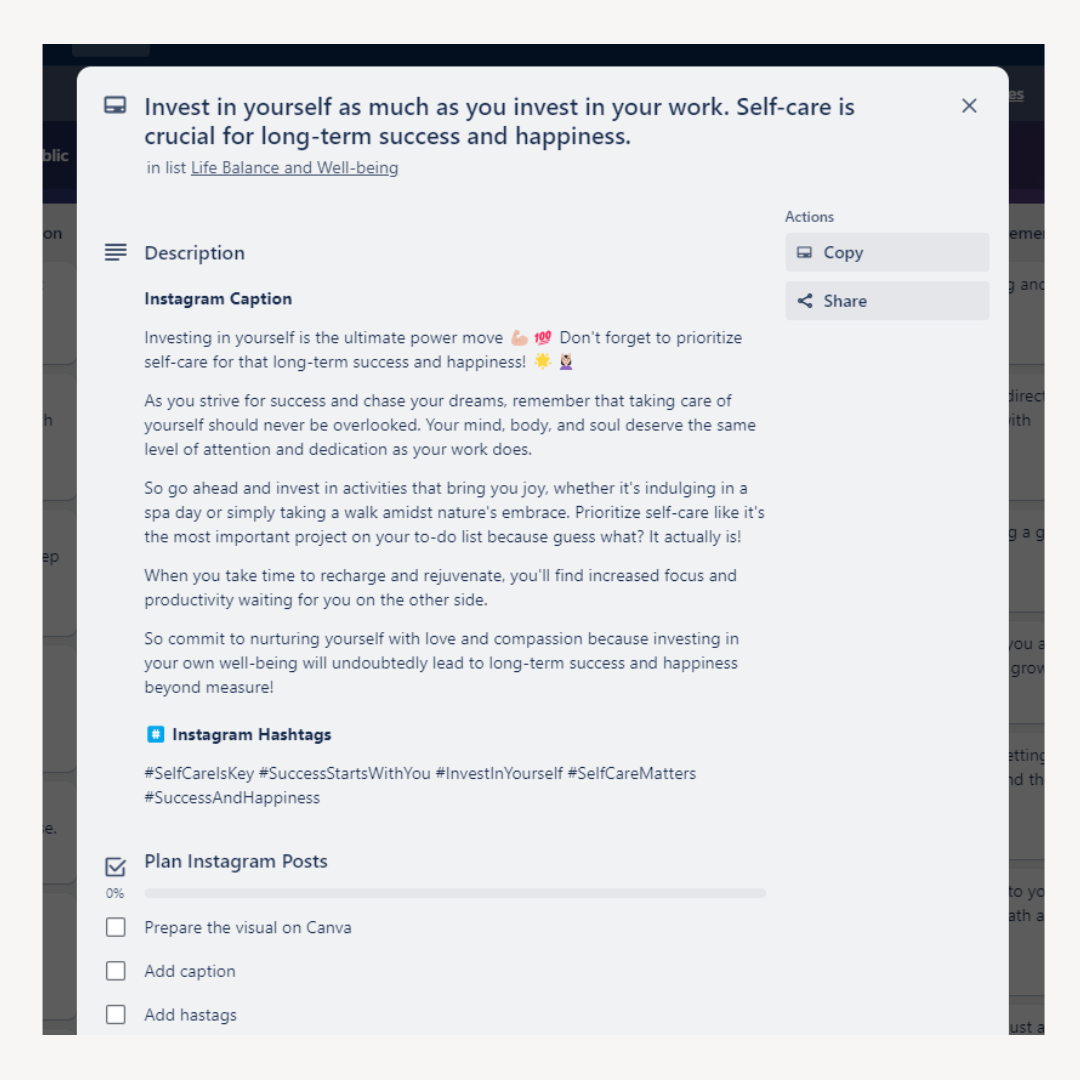 Captivating Trello Cards: Each featuring powerful quotes, extra-long captions, trending hashtags, and engaging emojis
✨ Every Card with a Quote Comes with an Extra-Long Caption, Enriched with Hashtags and Emojis.
✨ Creative Freedom: Ample space to copy-paste the caption or spark your own innovative ideas.

✨ Effortless Organization: The quotes are thoughtfully arranged on Trello, simplifying planning and tracking for your social media strategy.
Experience Extraordinary

Bonuses

for an Effortless Lifestyle Upgrade! 
Say Goodbye to solitude on your path to a flourishing coaching business and embark on a journey of connection, knowledge, and success with our exclusive bonuses!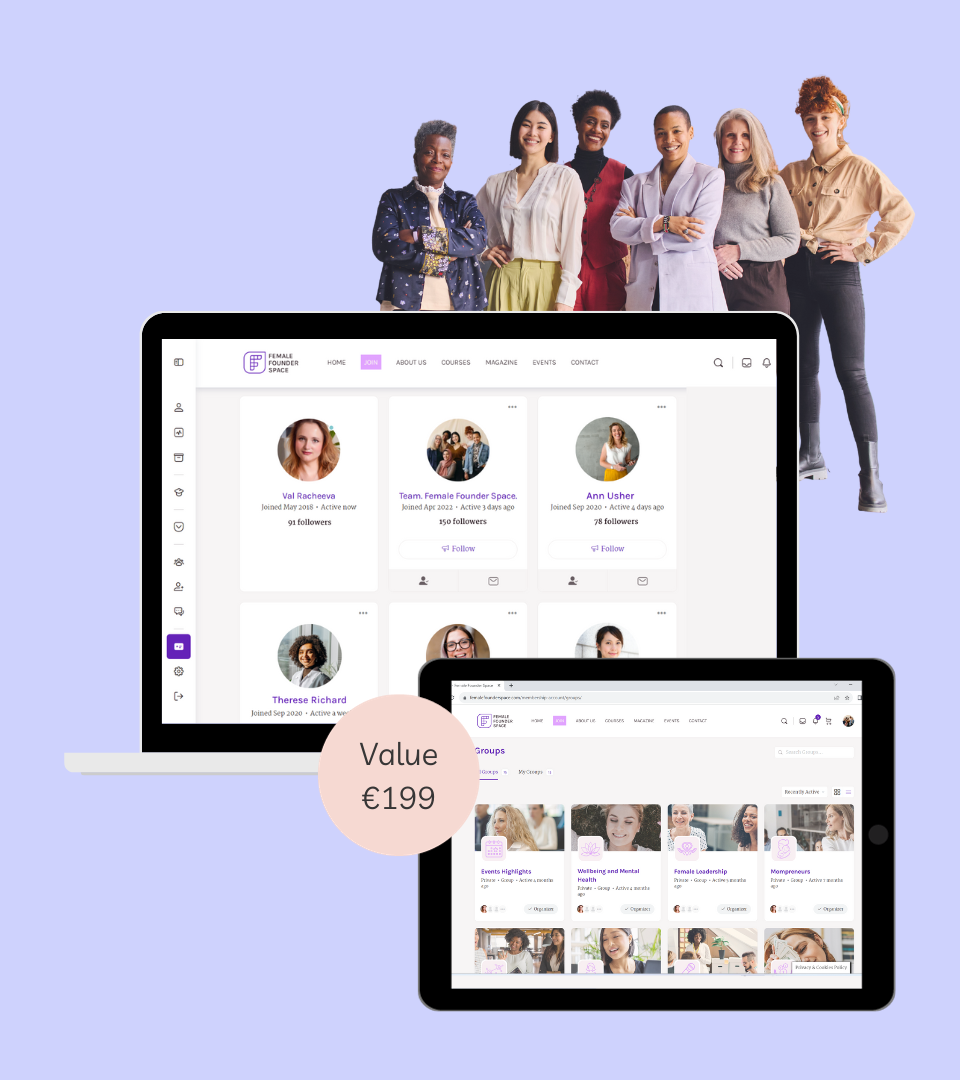 Forge connections with like-minded female entrepreneurs for an empowering community journey. Never navigate the path to building your coaching business alone – connect with a
vibrant online community of fellow female entrepreneurs!
✨ Enter a Thriving Online Community: Featuring a comprehensive members directory and skill-sharing platform.
✨ Broaden Your Network: Directly message members and participate in knowledge-sharing groups to enhance your learning experience.
✨ Unlock Exclusive Event Replays: Access the wealth of knowledge from past events, available only to our community members.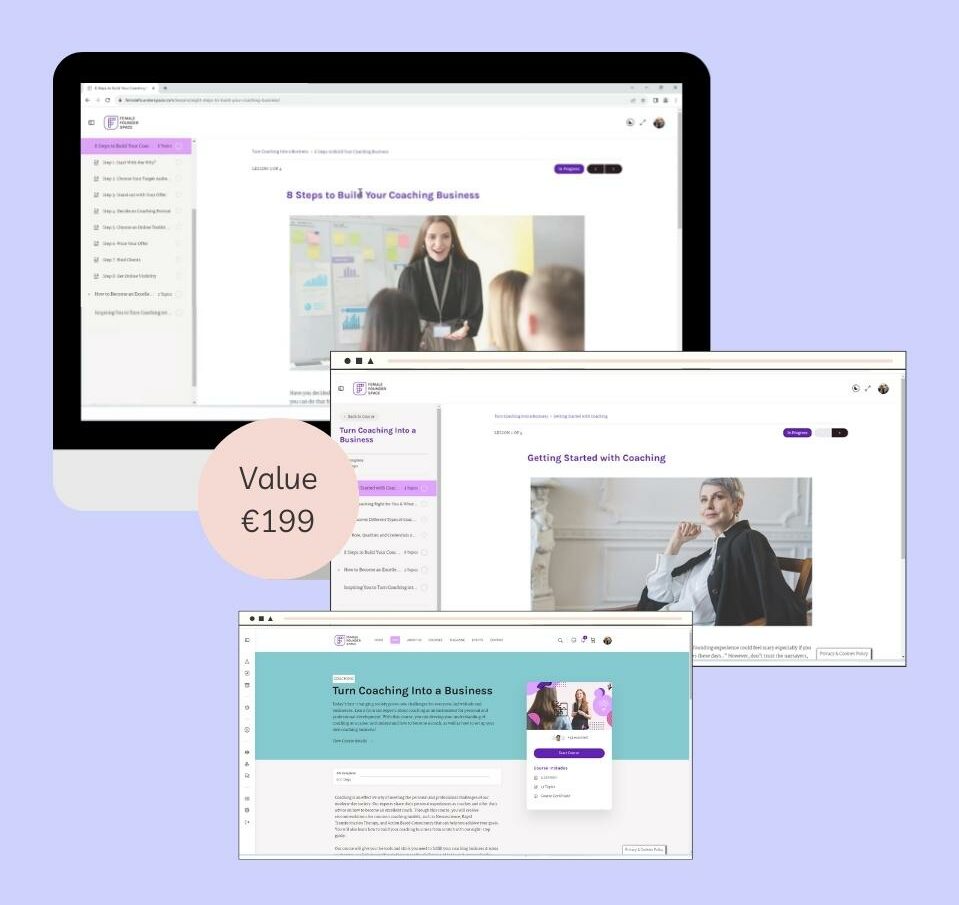 Unlock the power of our
exceptional online course
– your blueprint for building a successful coaching business and achieving excellence!
✨ Learn from 6 Seasoned Coaches: Benefit from the expertise of industry professionals.
✨ Engage in 4 Insightful Lessons: Explore key aspects of building your coaching business.
✨ Dive into 13 Dynamic Topics: Comprehensive coverage for holistic business development.
✨ Access Valuable Worksheets: Practical tools to enhance your learning and implementation.
✨ Earn a Course Certificate: Validate your mastery of the crucial steps to coaching success.
ALL OF THIS FOR
€912
ONLY €175
80% off €35
*Exclusive time-limited offer.Enjoy lifetime access with a 7-day money-back guarantee.
Imagine if every time you hit that
"post" button on IG…
🤩 Your posts effortlessly captivated your audience's attention and left them wanting more.
🤩 Growing stream of customers flocking to you because they recognize the value you provide.
🤩 You masterfully nurture relationships with these individuals while also driving sales and expanding your influence on IG.
🤩 And here's the best part – from now on, all your posts are ready in advance; prepared meticulously with thoughtful planning and care. 
And here's what would
"transpire…
🥳 There's no shortage of interaction. Viewers actively respond to your posts daily; their unwavering attention is a testament to both the quality of your content and their trust in your capabilities as a coach.
🥳 Gone are the days when posting sporadically plagued you with self-doubt. Now you confidently display yourself on IG —ensuring not just relevance but exponential growth in both audience size and influence.
🥳 Sales surge like a relentless wave as you consistently appear on IG to entice prospective buyers with unrivaled charm and conviction.
🥳 IG became synonymous with fun and ease—a joyful daily experience filled with anticipation for what's to come next
Here is the feedback from the coaches who use our templates.
Introducing Coach IG Power Bundle, the game-changing solution for all dedicated coaches out there looking to conquer Instagram! Crafted with utmost care, expertise, and passion by fellow coaches, this extraordinary package goes above and beyond to ensure your success.
ALL OF THIS FOR
€912
ONLY €175
80% off €35
*Exclusive time-limited offer.Enjoy lifetime access with a 7-day money-back guarantee.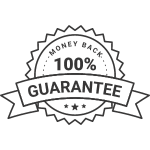 100% MONEY-BACK GUARANTEE
We are confident that this extraordinary package will revolutionize your Instagram presence and empower your coaching business. If, for any reason, you find the Coach IG Power Bundle doesn't meet your expectations, we offer a hassle-free 7-day money-back guarantee. We believe in the impact and value our product brings to coaches like you. If within the first 7 days of purchase, you're not completely satisfied, simply reach out, and we'll refund your investment – no questions asked. Your satisfaction is our priority, and we stand by the Coach IG Power Bundle with unwavering confidence.
*Exclusive time-limited offer.Enjoy lifetime access with a 7-day money-back guarantee.
Frequently asked questions
Are you ready to Unlock Limitless Possibilities for Engaging Content Creation, Bid Farewell to Content Overwhelm, and fuel your confidence as a coach on Instagram.
With the Coach IG Power Bundle, you'll have posts ready in advance that not only captivate your audience but also drive sales. Say goodbye to content overwhelm as you confidently and effortlessly show up on Instagram. Elevate your social media game with ease!
*Exclusive time-limited offer. Enjoy lifetime access with a 7-day money-back guarantee.
Discover all 546 Bundle templates
✅ From inspiring quotes, podcasts, events, reminders, and checklists to captivating reel templates and much more – explore a curated collection designed for every occasion
✅ 3 vibrant color palettes: Blue, Green, and Purple combined with earthy beige tones
✅ Carousel Style Templates: elevate your storytelling, showcase products, or share insights with ease using our curated collection of carousel templates
✅ Plus 3 convenient sizes: Square 1080×1080, Portrait 1080×1350, Reel Covers/Stories 1080×1920
✅ Highlight Cover Templates: choose from 3 unique options to effortlessly elevate your profile and make a lasting impression
✅ Premium collection of fully editable 21 slides of Reel templates: unleash your creativity and captivate your audience with stunning visuals – because your content deserves to shine
Video demo showcasing 365 Inspirational Quotes with Captions
✅ Explore this transformative tool to deepen your client relationships. Watch the magic unfold as meaningful messages come to life, elevating your communication and fostering a profound connection with your audience.
Access to the supportive online community of female entrpreneurs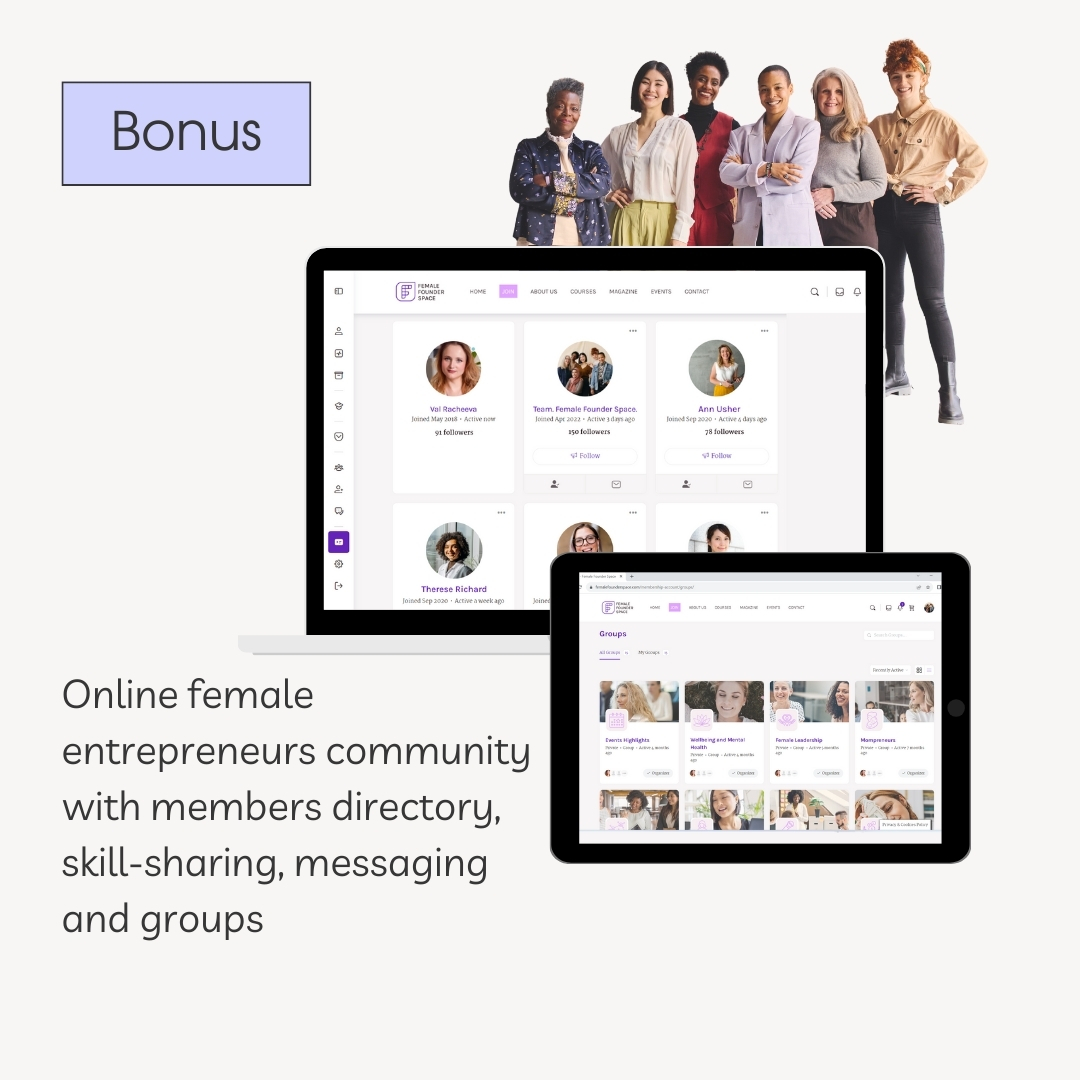 Take an online course "Turn Coaching into a Business"
Ready to craft scroll-stopping Posts in minutes?
Discover the key to effortless social media mastery with
Coach IG Power Bundle
! Wave goodbye to spending precious moments on graphics and content creation –
our templates and curated quotes with captions have your entire year covered
. Join the satisfied chorus of customers.
⭐⭐⭐⭐⭐ "As a small business owner, I constantly struggled with creating engaging content for my Instagram page. I now have access to beautiful templates and pre-written captions that save me so much time and effort." Kathrin S.
*Exclusive time-limited offer. Enjoy lifetime access with a 7-day money-back guarantee.